Whether you're looking for increased corrosion protection, a harder wearing surface or just a colour on your aluminium components then anodising is the process for you. The anodised coating thickness and colour can be varied and when anodised the surface is converted to an aluminium oxide layer increasing the wear and abrasive properties of the aluminum.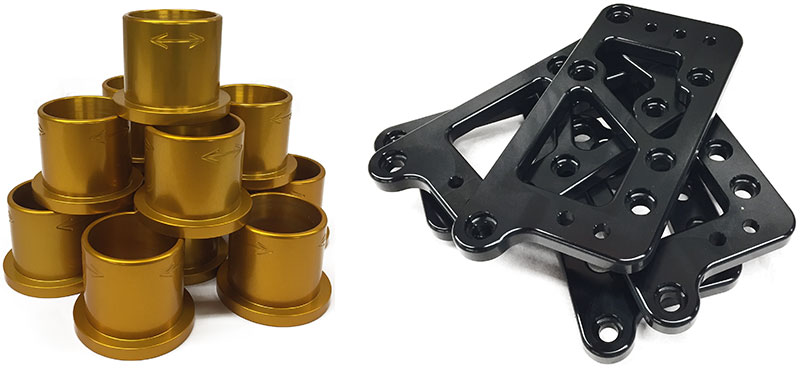 Hard Anodising is a process used in General manufacturing and engineering . When this is performed in a tightly controlled environment the result is a crystal lattice structure 50-100 microns thick with a surface hardness of approximately 60 to 68 Rockwell C (800 to 1000 V.P.N). Thickness, hardness and colour of the coating will vary dependent on the type of alloy composition, this should be considered when discussing your requirements with our technical staff or at the design phase prior to manufacture.
Hard Anodised surfaces have many benefits. If weight is a factor then aluminium can replace the more conventional steels previously used, aluminium components that are subjected to a high corrosion environment such as marine applications will out perform that of steels using conventionally coated. By using lighter weight materials such as aluminium in lieu of ferrous materials will also reduce machining costs considerably.
Areas where Automotive Anodising is currently used :
Pistons
Cylinders
Brake Cylinders
Cams
Gears
Valves
Hydraulics
Engine Blocks
Brackets & Clamps
Plus many more …
The uses for anodised aluminum are endless, limited only by the imaginations of designers, inventors and engineers.